Regular price
Sale price
£54.95
Unit price
per
Sale
Sold out
Share this
2

people are viewing this right now
View full details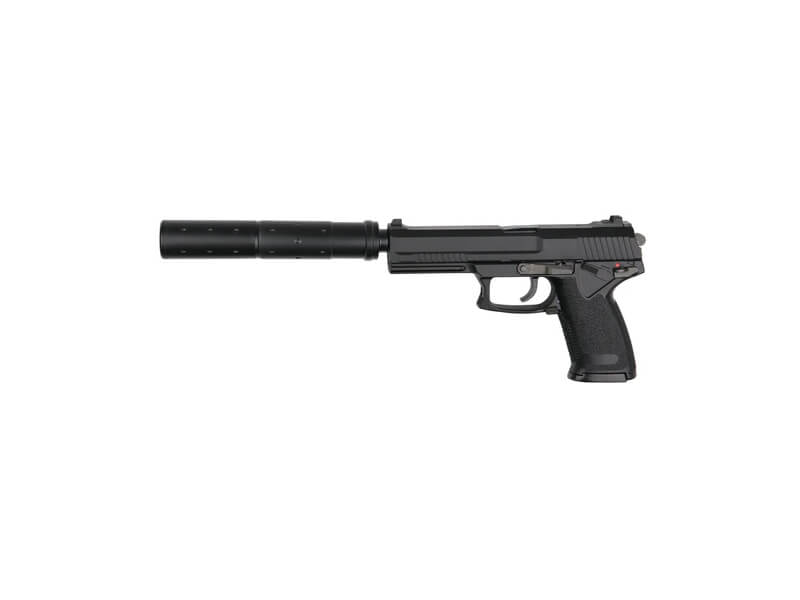 ASG MK23 Airsoft Gas Pistol
The ASG MK23 Special Operations is a highly regarded semi-automatic gas pistol known for its power and popularity among airsoft enthusiasts. With its impressive size and integrated silencer, this pistol commands attention and offers formidable performance on the field.
Key Features
Powerful Performance: The MK23 Special Operations is known for its impressive power, making it a favorite among airsoft snipers.
Enclosed Silencer: The included silencer enhances the pistol's intimidation factor and performance.
Accessory Rail: Equipped with a standard weaver/picatinny rail, the pistol allows for easy mounting of accessories.
Accurate Shooting: The fixed hop-up system combined with the pistol's power ensures accurate and precise shooting.
Specifications
Length: 245mm / 427mm (9.8 inches / 17.1 inches)
Barrel Length: 130mm (5.2 inches)
Magazine Capacity: 28 rounds
Standard Magazine: 14765
Hop-Up Type: Adjustable
Velocity: 85 m/s (279 fps)
Weight: 780g / 860g (1.7 lbs / 1.9 lbs)
Energy: 0.7 Joule
The ASG MK23 Special Operations gas pistol is a powerhouse in the airsoft world. Its combination of power, accuracy, and unique design elements make it a favorite choice for airsoft snipers and enthusiasts looking for a reliable and effective sidearm.