Regular price
Sale price
£859.95
Unit price
per
Sale
Sold out
Share this
1

people are viewing this right now
View full details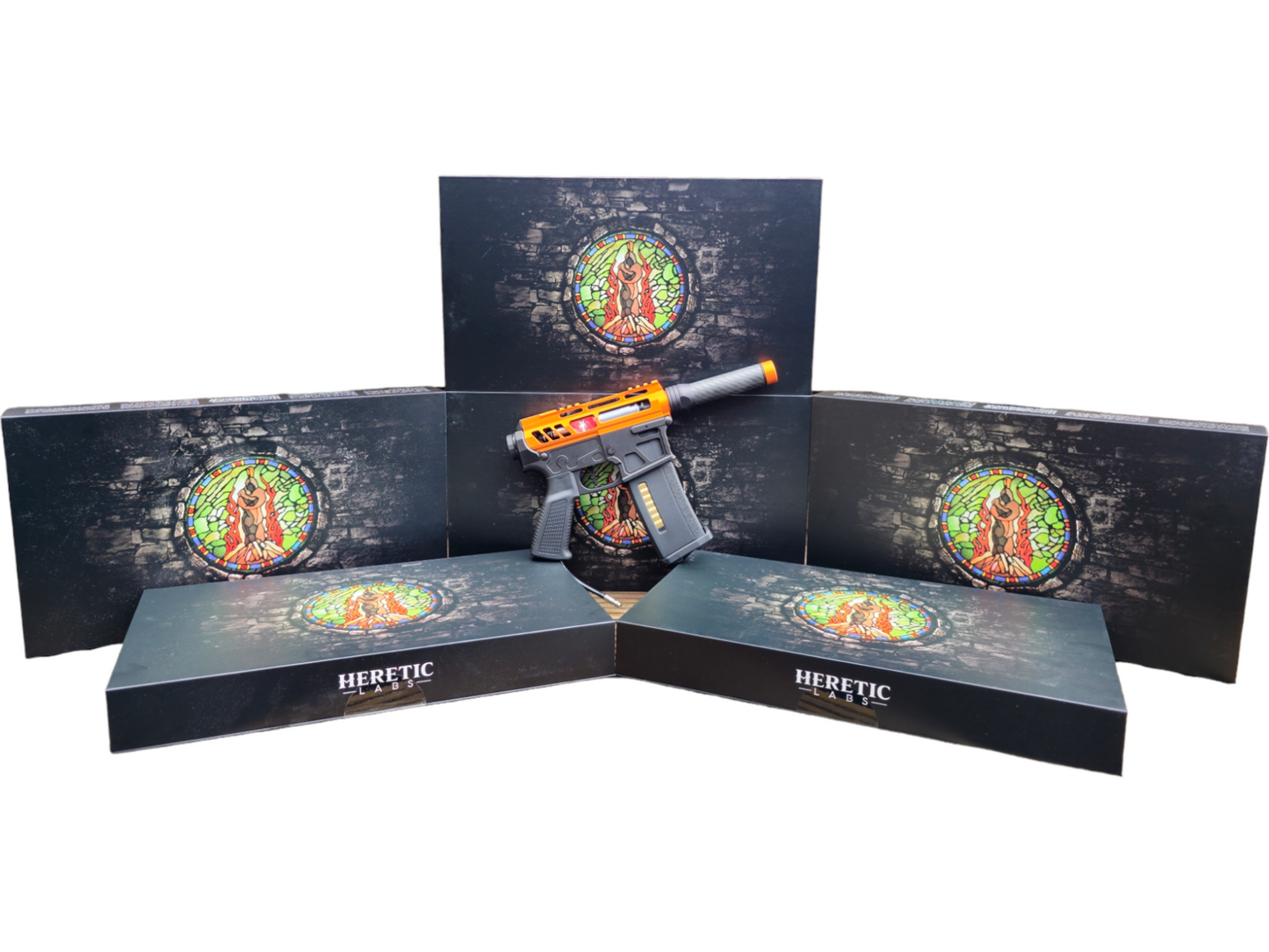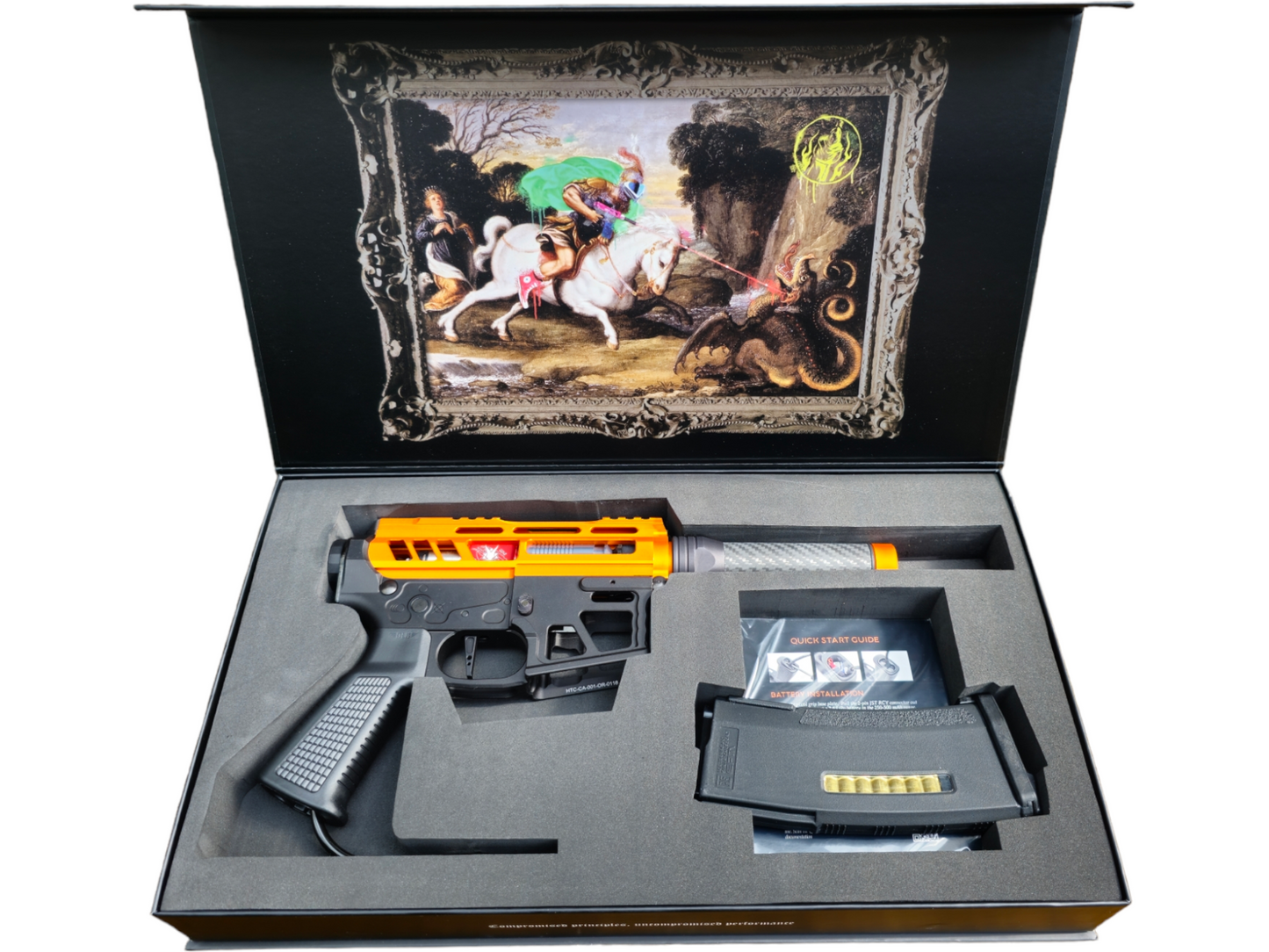 Introducing the Heretic Labs Article 1, the ultimate HPA speedsoft weapon engineered for high-performance and efficiency. Shedding the weight of traditional MilSim designs, this lightweight and highly customizable product offers the perfect blend of speed and precision making it perfect for serious airsoft players who favour a more fast-paced and aggressive style of play.

Heretic Labs Airsoft Article 1 - High-Performance HPA Speedsoft
Brought to you by Wolverine Airsoft's Heretic Labs, The Article 1 is an innovative airsoft rifle-pistol, meticulously engineered and crafted for maximum performance. Constructed with a skeletonized MTW CNC machined billet aluminium receiver and genuine carbon fibre outer barrel. This weapon boasts a total weight of under one kilogram, ensuring optimal agility and manoeuvrability on the field.

Driven by the tried and tested INFERNO Gen 2 HPA engine, the Article 1 comes fitted with an improved control board that includes a new binary trigger option to elevate its shooting capabilities. The innovative, precision CNC cut speed trigger also includes a Delrin bearing for a remarkably smooth pull.

The Heretic Labs Article 1 boasts extensive adaptability options with numerous MTW-Spec and real-steel aftermarket components, allowing for boundless personalization options tailored to your individual style and preferences.
Wolverine Airsoft Article 1 Features
Here are some key features about this product. If you have any questions about the Article I or any of our other products don't hesitate to get in touch.
Fast-firing, lightweight & durable.
Exceptional trigger responsiveness.
Out-of-the-box competition ready.
Customizable trigger settings for pre-travel, post-travel & actuation.
Pure HPA design with intrinsic alignment for optimal performance. MTW-Spec CNC Billet Aluminium Receiver set with a skeletonized structure.
Authentic Carbon Fibre Outer Barrel featuring a 150mm inner barrel.
Enhanced Inferno Gen 2, complete with Heretic Labs programming and a binary fire mode.
PTS EPM-MTW magazine, equipped with empty mag detection.
Precision CNC machined Speed Trigger with low friction bearing and travel adjustment.
Midnight Black, Amethyst Purple & Torch Orange colour options available.
Specifications
Here are some further specifications about the Heretic Labs Article 1 that you may find useful.
Weight: 0.95 kg (2.1 lbs)
Input Pressure: 60-140 PSI (Pounds Per Square Inch)
Estimated Energy Range: 0.8 – 1.65 J (Joules)
Rate of Fire (ROF): 5-35 RPS (Rounds Per Second) adjustable
Battery input: JST 6-8 V (Volts)
Experience the unrivalled performance and agility of the Heretic Labs Article 1 airsoft weapon, designed for airsoft players seeking the ultimate speedsoft solution. With its lightweight construction, fast and advanced firing capabilities as well as extensive customisation options, the Article I is undoubtedly a game-changer.
Get Ready for High-Performance Airsoft
with our HPA Rifle Starter Bundle. This all-in-one package provides essential components, from the rifle to necessary accessories, ensuring a seamless experience. Explore the bundle at this link to kickstart your journey and elevate your airsoft game.